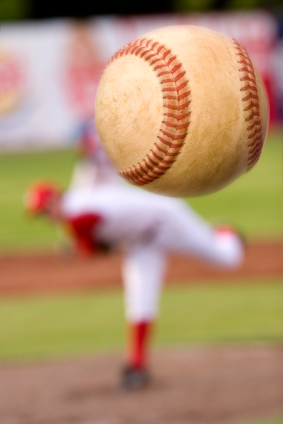 This post was written after the Navy Yard shootings yesterday, an event which led me to think about every shooting I've ever heard about, and then about every type of bad event that has ever happened.  For the victims of the shooting, this was much more than just a curveball, and I in no way want to minimize this tragedy.
Life has a way of doing that – just when you least expect something to happen, it does.
I didn't really know the origin of the phrase "throwing a curveball", although I like baseball, I am not an expert in all of the details of the game, so I turned to my good friend Wikipedia: 
Outside the context of baseball, variants of the expression "to throw a curveball" essentially translate to introducing a significant deviation to a preceding concept.
Apparently most pitches in baseball are not curveballs.  Good to know.
I remember June 1989 very clearly.  My life was going along swimmingly, I had a great job with wonderful people, great friends and I had been married for a year, so it was somewhat still the honeymoon period.  Then my mother called me and told me that my father had been acting strangely.  For example she found him in the middle of the night in the closet putting on a suit.  She asked him what he was doing and he replied, "I'm going to a wedding."  The next morning she took him to the hospital, and he never went back to work again.  He was 54 years old.
I dealt with that curveball by having a baby.  A couple of years later he was recovering from open heart surgery and waiting for a kidney transplant, and I dealt with that curveball by having another baby.  (Babies are great, don't get me wrong, but I don't recommend this method as a way to deal with difficult circumstances.)
So then I had these babies, and they threw curveballs just about every day.  I kept sitting them down and telling them that they really needed to act like the books said they would act, but that didn't work.  This was before the internet was invented, so there was no way to know that when things weren't going according to the book, it could still be normal.  They continued to throw curveballs at me for their entire childhoods.
That's Stephen Strasburg – he throws curveballs.  The good kind.
Driving to work on a beautiful September morning and hearing that a plane hit the World Trade Center was a significant curveball.  Working in a preschool and hearing from frantic parents that someone was driving around and randomly shooting people was another example.  That Beltway Sniper event was a significant curveball, we didn't go outside unless absolutely necessary for quite a while.  Thinking about it now, I could swear that from the day of the first casualty until the day of the arrest, was about 6 months.  But when I check the dates, it was only 21 days.  (I actually have been thinking about the sniper recently, because a movie was made about it, and it was just released.)
I've had quite a few curveballs thrown at me over the last few years, and I can't say I've hit them all out of the park (good use of baseball vernacular, don't you think?)  I think the one I am dealing with now trumps them all.  But I wonder what life would be like if it was all fastballs.  Would that be boring?  Or would it be comfortable?  Curveballs definitely build character, so I suppose a life full of fastballs would lead to lots of complacency.
Speaking of baseball and boring, I went to an Orioles game on May 30, 1997 with Mr. Lemon.  Sometime in the 7th or 8th inning I remarked that this was such a boring game, the other team hadn't even gotten a single hit.  Mr. Lemon got all bent out of shape and irritated with me.  "Don't say that, shhhh, quiet down!"  What did I do?  It was true, the other team hadn't had any hits.  It was so boring.
Well, it turns out that if a team doesn't get any hits in a game, the other team gets a "no-hitter", which is a good thing.  Kind of like shooting the moon in hearts, although maybe it's the opposite.  And apparently, if one mentions during a baseball game that it looks like this could be a no-hitter, a jinx will be placed onto the game, and the opportunity for a no-hitter is then lost forever.
I have to plead ignorance in this case.  I did know what a no-hitter was, however I had never experienced one, and no one gave me the Baseball Fan Rule Book, so I was unaware of the need to keep quiet about this.
Thus, in the 9th inning, the other team got a hit.  The Orioles still won, but because of me, apparently, Mike Mussina lost his no-hitter.  If you were there, and you care, I deeply apologize.
So a game I thought was very boring, Mr. Lemon thought was very exciting.  I suppose it is all a matter of perspective.
That's Mike.
An aside:  the player who got the hit that day was Sandy Alomar (and, by the way, it was the only hit of the game), who the following year hit a line drive which hit Mike Mussina in the face and broke his nose. 
I was thinking about all of this today after the shooting rampage at the Navy Yard in DC yesterday.   People were just sitting at their desks trying to do their work, or in the cafeteria getting a cup of coffee, and the next thing you know, someone is shooting at them.  Every time this happens, I can't stop thinking about it for quite a while.  And the Nationals stadium is very close to the Navy Yard, so the baseball game was postponed until today.
I don't think I've been to a Nats game all season, and there are only seven home games left, so it looks like I won't be going this year.  Well, it's been a crazy baseball season for me this year – full of curveballs.